As many have seen through social media, this summer I was chosen to be a part of the Young Photographers Alliance (YPA) Mentorship Program. This program was a national project where mentees were chosen from participating cities and worked with mentors to explore and create a series. During the course of about three months time, each of us were to create a series of work relating to the theme "Boundaries".
I was so happy to use this opportunity to work with big photographers from around Pittsburgh, Jon Lisbon, Laura Petrilla, Brian Kaldorf, and Jen Saffron (Public Relations), and getting to know the other mentees, Mariah Wild and Allaire Bartel.
One thing I didn't expect was the amount of work it takes to put something together like this. Each quarter at The Art Institute, our final projects are usually a series of work that I can hammer out the images I want in a short amount of time. It was frustrating having to drive back from home over summer break several times for an hour meeting, and it was time and energy consuming. Scheduling my photos and finding time to composite it all was not something I wanted to add to the calendar, with my summer quarter of school starting. Then there was the cold calls and promoting that was a new thing to us all. My initial excitement was buried and hidden as this had become my sixth class I was taking for the quarter and nevertheless, more work.
I think this is how many great things come together. The initial idea of a project is always so appealing, but when I'm thinking of final images, I never take into consideration the work and the stress throughout the production. But the truth of the matter is that 9 times out of 10 we have to work through tough situations that are just plain time consuming, energy draining, physically exhausting, and sometimes emotionally tiring, too. If we realized how much of a toll it was to make a piece of art that had the potential to be our best to date, would we, as artists do it? Maybe I wouldn't depending on the situation, but I feel that as artists, especially, this is an opportunity to grow as people and in our art form to take on these, well, boundaries.
Now I am in no way degrading or looking down on the YPA program, because it was an absolute honor to be a part of it! What I am saying is that we need to be aware that success and great opportunities take hard work and dedication to come through and become something we can't even imagine. It's kinda like that Spider-Man quote, "With great power comes great responsibility." That Ben Parker, what a smart man. (Yes I totally just quoted Spider-Man in a blog post).
This program taught me things that I may never have learned about involving the process of developing concepts, shooting the photos, and promoting the final images just to name a few. The most important thing I took away was to let projects become something else, if that's the direction it can take to become more powerful and well rounded. We can't be stubborn to do photos or any type of work in such a rigid way, if it can be shared in another, better way. Let art evolve and change, while presenting your changed perspective through this art.
The gallery opening was more than I could ask for, and made all those prior boundaries seem like nothing at all. Every ounce of thought put into the show was worth it, and through promoting and networking brought an amazing turn out of support. That gut feeling when something works out perfectly and looks better than you imagined was the description of the Boundaries opening- maybe it was just nerves and butterflies, but I know there was a mixture of gratitude for frustration, stress, and work with it.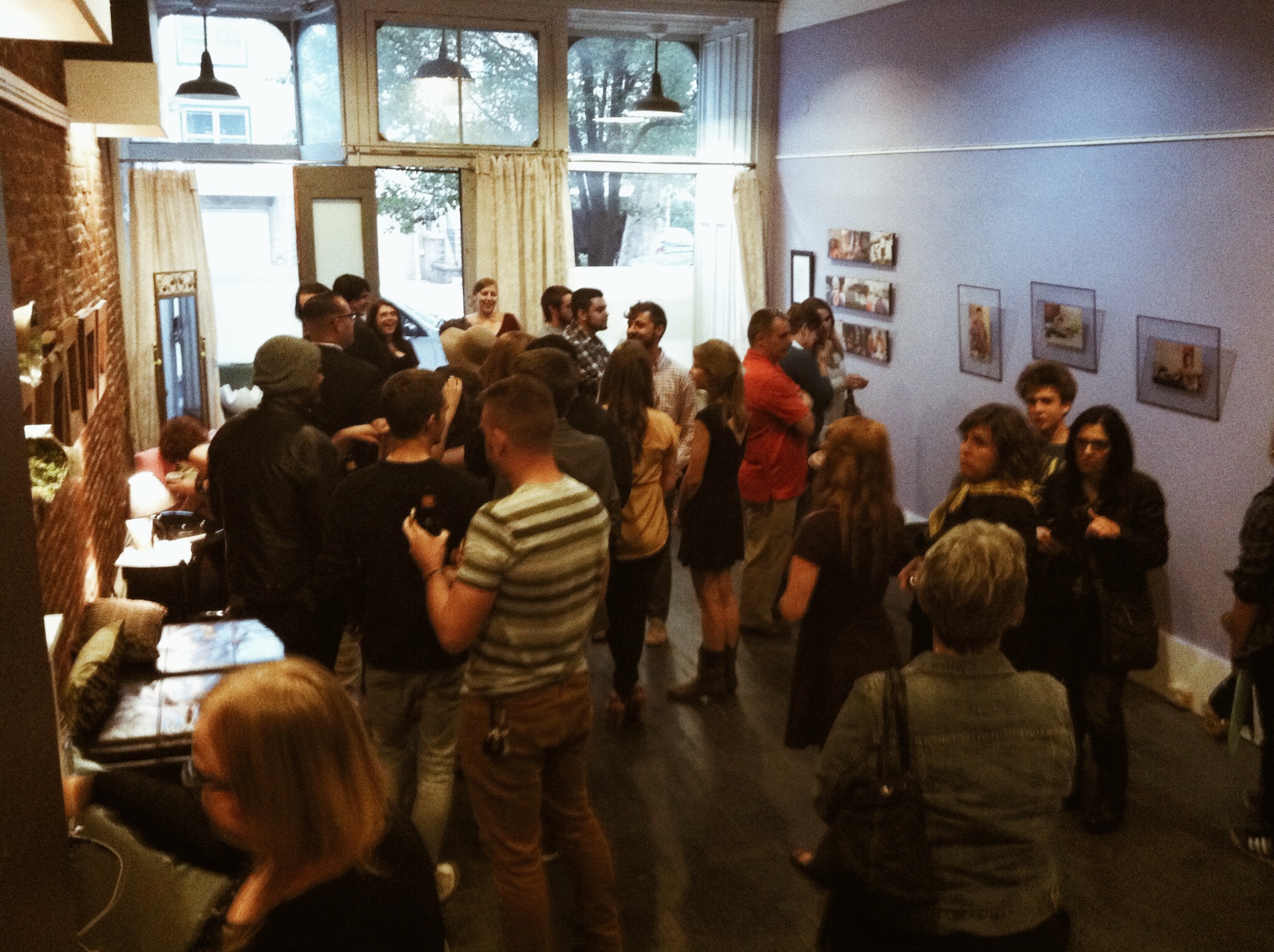 THANK YOU!
I want to thank everyone SO MUCH from the bottom of my heart who has been a part of the YPA Mentorship and the Boundaries Gallery. You all have been the absolute best support and I am especially grateful for everyone who came to the much anticipated gallery at Studio 3702 on September 12, and those who sent messages who weren't able to be there.
Thank you to Jon Lisbon, Laura Petrilla, Brian Kaldorf, and Jen Saffron for being the best Pittsburgh mentors and giving your time to help develop and produce a meaningful and amazing group of artwork! Thank you Laura for also opening up your studio for our meetings and to display our photos. Along with that, thank you to Mariah Wild and Allaire Bartel, a couple of extremely talented photographers and it has been so exciting to see our projects evolve, and come together to become something amazing. You both should be so proud of the work you've accomplished! Hard work definitely pays off.
I couldn't have done any of the images without any of my models, Aunt Donna, Grandma Garnet, Grandpa Bill, Rudy Oiler, and Pauline Roberts. Absolutely the sweetest people to work with, and to know. I wish I could have brought the show to all of you!
A giant thank you to my Dad for hand making my frames that he so gladly collaborated with me on. It was so cool to work together on a project that we both enjoy, and good grief, the man is a genius when it comes to building things.
Thank you to my Mom, for helping me travel and to shoot the "Boundaries" project, and for encouraging every project I have done (and for helping me keep my sanity when it all seems so overwhelming). And thank you for waking up at the crack of dawn and coming to Pittsburgh to spend time with me on this special day. Thank you also to Aunt Julia for joining our spontaneity!
Special shoutout to Jessica Kieffer for driving nearly four hours to just come see me at my gallery, and also to Katie Krocker and Brandon Schwartz, the cutest couple ever who drove all the way from Ohio to surprise me this evening. Y'all are the best!
Thank you to all my friends at The Art Institute for taking time to come see our show and hang out with us. And thank you to my North Hills family for supporting me in every adventure I take on! If I missed anyone, know that I appreciate all that you have done by ever helping and encouraging me.
Thank you, thank you, THANK YOU!! I am so so so grateful. I love you guys!